January 09, 2022 By Alex
The State of Enterprise Mobility & Digital Transformation [2022]
Enterprise mobility has been on the radar of organizations for some time, but there is a new sense of urgency. The transformative power of mobile, coupled with increasing demand from customers and employees and heightened competition has made enterprise mobility initiatives high-priority items, rather than "nice-to-haves". In today's market, enterprise must put mobile top of mind, or risk being blindsided and losing market share.
Organizations are increasingly exploring ways to evolve in the enterprise mobility game. Whether it be via enterprise mobile apps, mobile device management, workforce mobility initiatives, agile transformation, or a combination, enterprise mobility is a hot item of discussion.
This resource will give an in-depth breakdown of everything you need to know about enterprise mobility. Mobility trends, enterprise performance, implementation models, major challenges, delivery models, and more will be covered.
Table of Contents:
What Is Enterprise Mobility?
The Current Landscape: Trends In Enterprise Mobility
Enterprise Mobile App Development & Mobility Challenges

Major Enterprise Mobility Challenges
Enterprise App Development Challenges: Customer-Facing
Enterprise App Development Challenges: Internal Apps
Why Enterprise Apps Fail

Delivering Enterprise Mobility Solutions
Enterprise Mobility Implementation: Process & Organizational Shifts

Scaling Agile In Enterprise Environments
Major Challenges To Scaling Agile
Frameworks For Scaling Agile In The Enterprise
Factors Needed For Success

Conclusion
What Is Enterprise Mobility?
In this guide, Enterprise Mobility refers broadly to the initiatives organizations are undertaking to improve operations, development and delivery via mobile-focused solutions, as well as mobile products being released for customers. This definition encompasses things like operational/employee-focused enterprise mobile apps; customer-facing mobile apps; agile methodologies; DevOps and change management; and other digital transformation initiatives. In this resource, we will be touching upon many of the areas that fall under the umbrella of enterprise mobility, focusing on trends, challenges, solutions and recommendations, and more.
The Current Landscape: Trends In Enterprise Mobility
Your Customer and Employees Are Mobile
Enterprise mobility is fast becoming a top priority for large organizations, both for workforce mobilization and customer engagement. Driving greater efficiencies and ROI, as well as connecting with a mobile customer base that is being targeted by mobile-first disruptors has placed both employee- and customer-facing enterprise mobile apps on the radar of enterprises that view mobile innovation as a key competitive factor.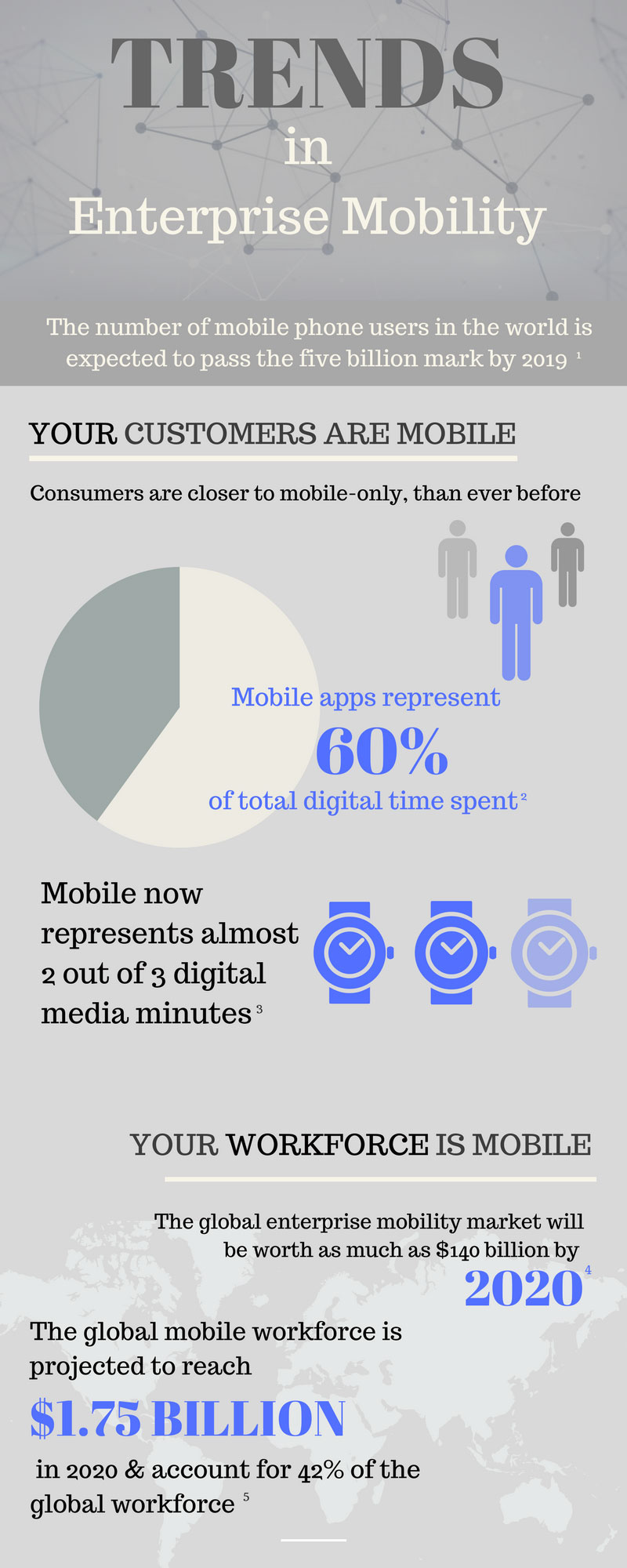 The push for enterprise mobility isn't just coming from other large organizations. Increasingly, enterprises are competing for market share with companies that have mobile workforces available at the tap of a button. The emergence of the service-for-hire model pioneered by companies like Uber means that organizations have to not only target customers on mobile, but also enable their workforces to complete with the changing nature of labour that mobile technologies are facilitating. Data reflects this shift, with 69% of organizations providing mobile access to enterprise applications to their employees, versus just 52% in 2017.
Enterprises Are Prioritizing Mobility Initiatives & Mobile App Development
In the enterprise world, mobility initiatives broadly and mobile app development more specifically are moving into the spotlight as high-priority items. According to Growth Hacker, enterprise mobility solutions are a top priority for more than 73% of businesses in the USA, Canada, and the APAC region. Furthermore, overall budgets for enterprise mobility initiatives are expected to jump more than 10% over 2018 versus 2017 budgets, according to Enterprise Mobility Exchange. This data seems consistent with a 2016 report issued by Enterprise Mobility Exchange, which found that enterprises were devoting more significant budgets to mobility solutions, in particular toward enterprise mobile app development.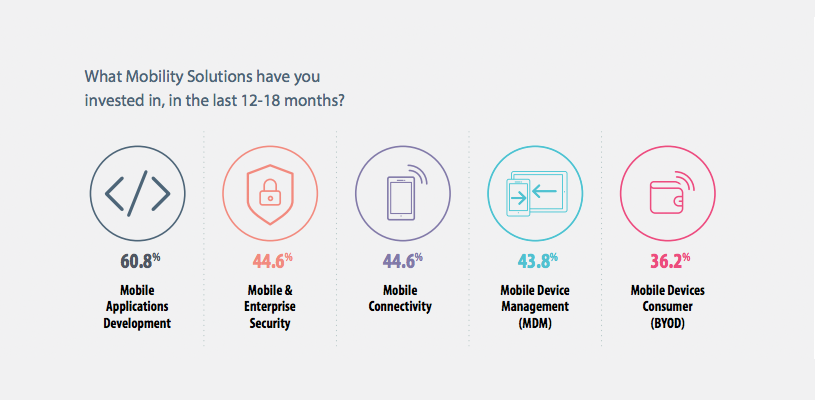 Agile Transformation Is A Major Focus Area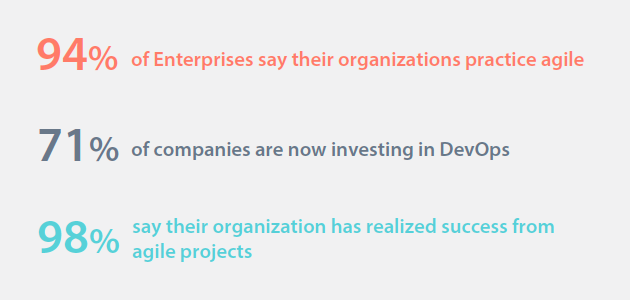 With investment in enterprise mobility initiatives, companies are also working to implement agile transformation to improve the way they plan, develop, and deliver mobile solutions. VersionOne's 11th Annual State of Agile Report found that "enterprise agility is increasing throughout organizations and across almost all industries at an accelerated rate".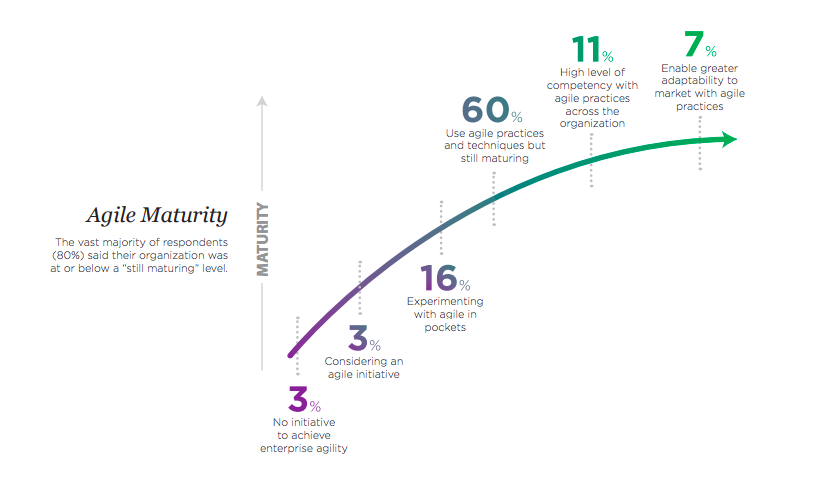 However, the report also shows that agile is still relatively nascent in the enterprise world, with 80% of organizations claiming they are at or below the "still maturing" level in their agile implementations.
AI and Machine Learning Are On The Rise
In terms of technologies enterprises are exploring to amplify their enterprise mobility initiatives, artificial intelligence (AI) and machine learning are gaining a lot of traction. According to a report done by Enterprise Mobility Exchange, these two technologies have shown significant gains in their potential to impact business transformation over the next three years, ranked behind only cloud computing and mobile solutions. In fact, Information Age found that 60% of companies are currently gathering information to build their AI strategies, showing that while still in the early stages, AI and machine learning are a very salient topic in the enterprise mobility landscape. Furthermore, 46% percent of IT organizations at large corporations are incorporating AI into their work portfolios. The trend toward these technologies isn't surprising, with a wealth of opportunities to improve enterprise mobile applications by building smart apps that learn user behaviour, chatbots to reduce human operator cost and offer more intuitive self-service, automation of common support tasks, and more. And with solutions like Microsoft Azure Cognitive Services, the effort and cost associated with implementing AI and machine learning is being reduced.
Examples of Brands Using AI and Machine Learning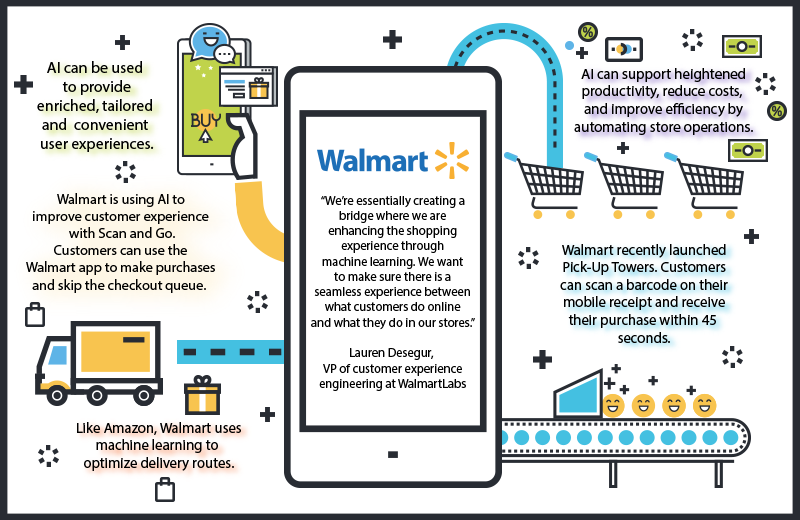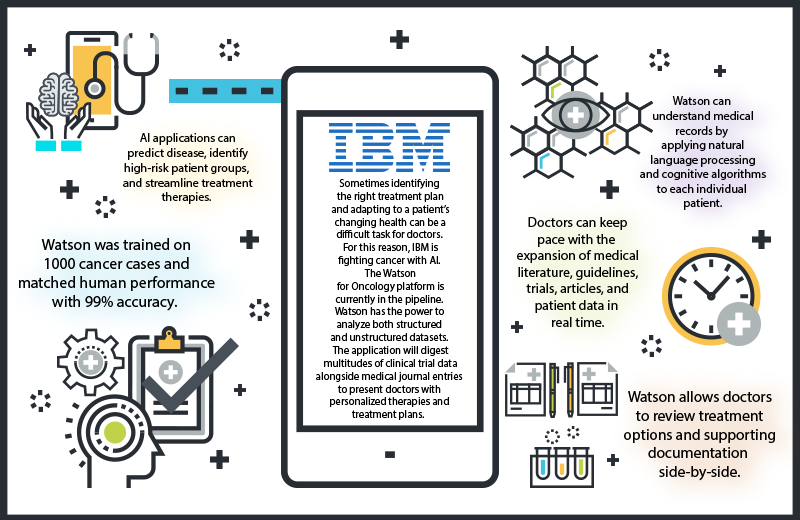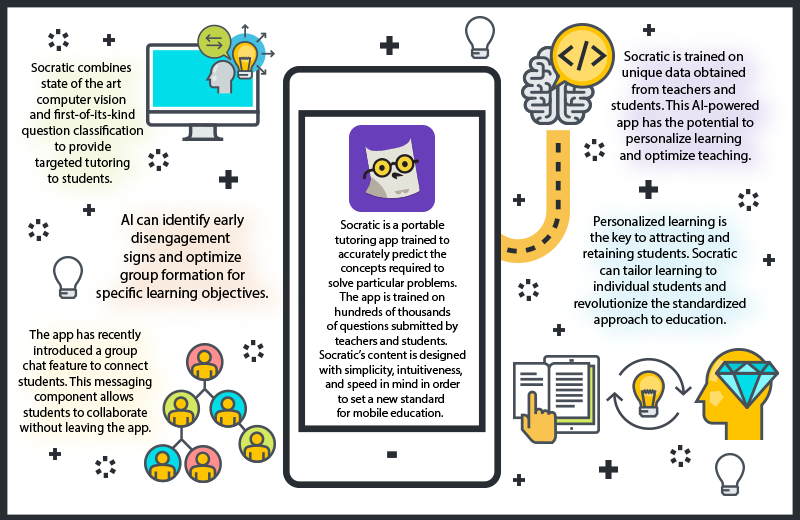 Enterprise Mobile App Development & Mobility Challenges
Enterprise mobility initiatives are presenting organizations with a number of significant challenges that are common across different industries. Some of these are due to the sheer size of enterprise organizations, which makes change difficult to implement due to the scale at which transformation needs to happen and the number of people that need to be involved.
Major Enterprise Mobility Challenges
Knowledge Gap
Enterprise mobility initiatives, particularly for organizations in the early stages of mobile maturity, require strong expertise to implement. Many enterprises lack this expertise internally, and are finding it difficult to source the talent needed to get transformational initiatives off the ground and realize success. A survey conducted by Gartner notes that there is a significant gap between organizations' mobility goals and their ability to achieve those goals, particularly given the overwhelming demand for mobility solutions and the specific, hard-to-find skill sets needed for successful implementation.
Legacy Systems
Legacy systems continue to be a major challenge to organizations across the enterprise space. On top of modifications and updates that have to made to support enterprise mobility initiatives, many legacy platforms are being "sunsetted", which will force the modernization of applications. 90% of IT decision-makers claim legacy systems are preventing them from harnessing the digital technologies they need to grow and become more efficient (ComputerWeekly.com) Almost 50% of respondents from an Enterprise Mobility Exchange survey cite integrating with legacy systems as one of the biggest challenges to implementing enterprise mobility solutions (Global State of Enterprise Mobility 2016) It's not just the legacy systems themselves that prove challenging, but also the traditional work processes that come with them. Large enterprises, particularly when maintaining and working on legacy systems, are typically accustomed to working within silos, making coordination across teams very challenging. This is indicative of a larger scale tendency for "organizational inertia" and "legacy thinking" in enterprise organizations which makes transformation challenging.
Security
According to a survey conducted by TechValidate and Red Hat, 45% of respondents named security as one of their top challenges for enterprise mobile app development. Unsurprisingly, mobile-oriented security needs require specialized expertise much the same as mobile app development does, presenting a number of unique challenges. For enterprise organizations that issue devices to employees, as opposed to using a bring your own device (BYOD) model, they are able to exercise much more control over security. Company-issued devices can be set to limit what employees can access on the device and how the device is used. For example, disabling native apps, forcing the use of whitelisted apps, adding remote device locking and wiping functionality, etc. Companies that are using a BYOD program and plan to have employee-facing enterprise apps accessed on those devices can't exercise the same level of control, but can implement a Mobile Device Management (MDM) strategy. Solutions like SOTI or Airwatch allow organizations to create a sandbox where enterprise apps live, set compliance requirements, remotely wipe data, and otherwise secure the endpoint. Data encryption, certificate underpinning, and strong authentication measures are also imperative to both approaches and typically are part of MDM solutions.
Project Complexity & Support Infrastructure
Enterprise mobility solutions that are impactful will require multiple touch points across multiple teams, often having to work in tandem between departments and lines of business in order to be effective. The scale and complexity of such initiatives, as well as the technical infrastructure needed to enable these initiatives, requires a high degree of coordination and in many cases, significant organizational changes. "Knitting together the key team members to effectively address an organization's mobility requirements is challenging in that it spans multiple functional departments and points of influence, including for example: network, application, security and finance. In addition, making the business case around the benefits of mobile investments can be less tangible, especially when measuring outcomes such as the quality of an end user experience or the impact on customer experience and service." Enterprise Mobility Exchange: Looking Forward and Back: Where Is Enterprise Mobility Headed in 2018?
Enterprise App Development Challenges: Customer-Facing Apps
Finding The Right Internal Team
Mobile is still a new competency for a number of enterprise organizations and companies are struggling to both define the type of talent they need and hire the right people to help realize mobile initiatives. As mentioned above, the roles needed to support enterprise mobility initiatives are in high demand and sourcing talent is an ongoing challenge. Technical roles like engineers and architects, as well as mobile specializations in design, product, and project management, don't come cheap, and enterprises are competing with each other and a variety of tech giants, startups, and others to try and attract and retain talent.
Matching User Experience Demands
The need for strong mobile design talent is more apparent for customer-facing enterprise mobile apps because these apps are direct touch points between companies and their customers. Functionality is not the only important factor – delighting customers is absolutely essential, so the user experience needs to be unparalleled. Further, the delivery of customer-facing apps is different than internal apps because you have to be cutting-edge to attract and retain users and to outpace the competition – which is increasingly coming from mobile-first startups and industry disruptors. For apps meant for use by customers, native app development is highly recommended. While it can be costlier, there are a number of advantages over cross-platform solutions that include: Better app performance and speed The ability to leverage the UX and UI conventions that are unique to each platform New platform features can be integrated more quickly as they are available as soon as they are released Native apps work better with the hardware What it ultimately comes down to is the user experience, which is simply superior on native apps. Developing a native application that follows specific UX and UI conventions not only allows you to take advantage of all of the unique functionality of that platform, but provides a faster, more fluid user experience.
Creating Mobile-Ready Services
Good app performance is dependent on mobile-ready services to power the app. In many cases, existing services are not set-up to provide the performance users expect. APIs will be needed to expose business function that enable the app to accomplish specific tasks. For example, a travel app might need an API that would allow a user to enter a booking number and bring up their booking information; a gift card app may need an API to check and manage the balance on the card. It's important to have an API strategy in place for your customer-facing application in order for the app to function as expected, and to help inform the development efforts and associated costs to achieve what you want. Companies should evaluate their current services to see if they are adequate for powering the mobile app, and identify in which cases they will need to create APIs from scratch.
Building A Culture of Continuous Delivery
Unlike web properties, which can be outdated but still work, mobile is evolving constantly and if your product doesn't keep pace, it won't function. Mobile apps need to be approached via a continuous delivery process so organizations can deliver iteratively to match user demands and technological innovation. Continuous delivery is also beneficial because it allows you to collect feedback, behaviours, and learnings and apply them to future releases beyond initial launch, so you can improve your product and consistently provide a better user experience. This is particularly important for customer-facing enterprise mobile apps, which exist in a very competitive ecosystem. Consumer expectations are high; if you are unable to encourage engagement, solve pain points, and add value, your customers won't use your app.
Enterprise App Development Challenges: Internal Apps
Expertise & Resources
Despite the maturation of the mobile market, enterprises still face huge challenges when it comes to finding the right talent and expertise to plan and execute their enterprise mobile app development initiatives. Key people, particularly mobile developers and product owners, are in high demand and are very difficult to find. As a result, many enterprises struggle with a gap in expertise. "As a result of having fallen into app development as a business necessity, organizations are typically lacking in basic app development life cycle skills such as user experience (UX) design, quality assurance, mobile-specific back-end data integration and mobile-oriented security needs" Gartner: How To Build A Successful Mobile App Development Team
Satisfying Corporate Demand For Mobile Apps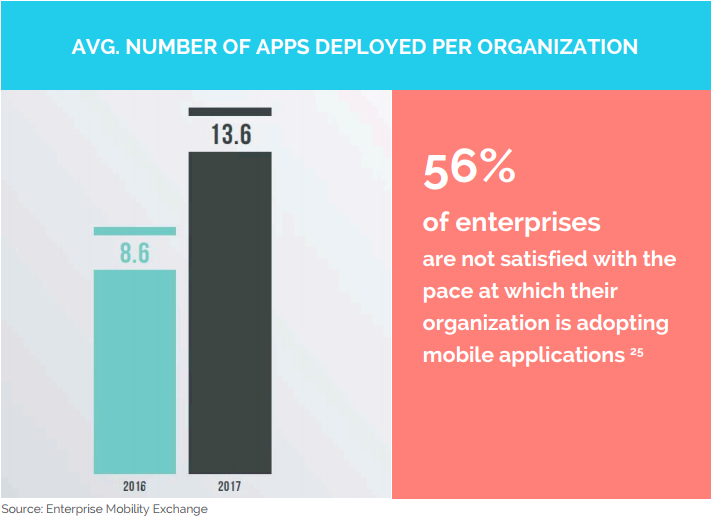 The demand for enterprise mobile applications continues to increase, and meeting this demand is proving challenging for organizations. Gartner forecasted that over 2017, the demand for enterprise mobile app development services would grow at least five times faster than internal IT teams' capacity to deliver them. Sourcing experienced developers, scaling development and delivery, and modernizing process are among the most commonly cited barriers to mobility initiatives. In order to alleviate this issue, many enterprises opt to outsource app development or use a mixed-sourcing model that bridges the knowledge gap while still allowing internal team members to gain the benefit of knowledge transfer that comes from working with specialist firms.
API Strategy & Backend Integration
Another challenge in the development of employee-facing enterprise apps is creating an API strategy. In order to power your app, you will need APIs to expose the business functions needed to enable certain actions. A field services app, for example, would need an API to expose maintenance appointment schedules, or to allow users to close completed appointments. Companies need to evaluate their current APIs and determine whether or not they are capable of fulfilling the requirements of the app. In some cases, these services may not be adequate, which means modifying existing APIs or creating new ones. In other cases, the services may not exist at all, which means APIs will need to be created from scratch. API strategy should be included when gathering product requirements as these services will not only be integral in the functioning of your product, but also add cost and effort to the project.
Developing A Mobile Strategy
Building a mobile strategy, particularly one that focuses on the right areas at the right times, is a barrier faced regardless of industry. The size of enterprise organizations makes it tough to prioritize where the attention should be focused. What lines of business are highest priority? With such diverse roles and functions, there isn't a catch-all solution for employee-facing apps. This problem was highlighted by respondents in the Global State of Enterprise Mobility 2016 report, who noted that a key lesson learned from mobility initiatives was to "think big, but start smaller." A good approach is to begin by creating a "point app" that addresses a very specific need and solves particular problems for a defined set of users. For example, a company that provides field services may create an app that allows service technicians to view schedules, report on appointment status, and interface with the back-end system directly from the application. This approach allows organizations to remain focused and ensure things work very well for a particular set of users, prior to rolling out larger initiatives for other areas of the organization.
Platform Decisions
We typically recommend building natively, whether you are building a customer or employee-facing enterprise app. That said, for internal applications designed for employee use, cross-platform tools can be a good option because enterprise organizations can force the UI to be uniform and reduce development costs. Internal enterprise apps are meant to help achieve business goals such as streamlining operations; since functionality is the main priority, cross-platform can be the right solution. However, building native vs. cross-platform is still a challenging decision. Cross-platform tools may not be suitable for everything that needs to be accomplished, depending on goals and objectives. On the other hand, native development may be too costly or in some cases, take too long to be delivered given project deadlines. Organizations must make this decision early in the product discovery process when defining needs, goals, and objectives.
User Adoption & Business Readiness
In a report done by Enterprise Mobility Exchange, user adoption is cited as one of the greatest challenges keeping organizations from realizing their enterprise mobility strategies. Among a plethora of other barriers to success, many companies aren't prepared organizationally to support their apps. There is a lot of cross-departmental effort involved in creating and launching a successful product. With employee-facing enterprise apps, organizational change is necessary to varying degrees based on what the apps are meant to improve. Business readiness is a challenge that while not directly related to development can have a huge impact on the success of the application and user adoption. Among the key players are Human Resources and/or internal communications teams to help ensure that products created for use by employees are adopted. It's imperative that a strategy is in place to facilitate the transition that includes executive/managerial support, employee training, change management, and employee onboarding processes.
Why Enterprise Apps Fail
With so many enterprise mobile app development challenges, it's not a surprise that in many cases, they fail to meet success metrics – whether these be revenue generation, downloads and usage, or operational goals. Here are the most common reasons why enterprise apps fall short.
Static Organizational Mindset
Despite shifting attitudes and increased investment in enterprise mobility initiatives, organizational thinking doesn't always align with the mobile-first paradigm which is increasingly pervasive in both business and consumer environments. This shortcoming is far-reaching and affects many different areas. Stakeholders sometimes aren't convinced that mobile is an important medium to build for. More commonly, there is lack of support for (and understanding of) processual initiatives like agile development which help drive digital transformation. Old ways of thinking and doing things are impeding the ability of enterprises to start and deliver truly impactful mobile solutions.
Lack of Organizational Readiness
Mindset is only one part of a larger organizational shift that allows enterprises to be ready to undertake enterprise mobility initiatives. Your people need to be ready. From a skill and strategy standpoint, mobile requires organizational learning, employee adoption and managerial sponsorship, and in many cases a major shift in business culture. On top of this, your systems need to be ready to capacitate change. Applications need to communicate with services in order for particular features and functions to operate correctly, which means that these services must be ready in order for the app to be developed and implemented effectively.
Technology, Business, and Operational Challenges
Technology
Legacy systems, scalability, and systems integrations are often the main culprits for failures on technology side of enterprise mobility initiatives. It's often difficult to integrate legacy systems and new platforms, which is a major barrier faced by many large organizations that have used particular systems for a long period of time. Scalability is also a concern, as mobile can put a strain on systems – particularly those that require real-time information – if the user base of the app expands rapidly. Furthermore, mobile requires cross-system integration, many of which don't yet have the ability to communicate which each other. Without the readiness of these systems, any mobile project is likely to miss deadlines and go over budget.
Business
If you're trying to expose business logic through an app, then those rules need to be defined in a central location. Often, these rules exist in people's minds but are not formally defined and centralized. This adds time to a project because these requirements need to be gathered from disparate sources and then organized. As discussed above, new organizational thinking is also required to ensure the success of a mobile solution. You can't apply the same business and development rules to mobile as other platforms, nor can you assume your user interacts with your product in the same way. Consequently, you have to adapt your strategy to account for these differences. There is also a tendency for companies to try and do everything at once, which can be a costly mistake. Like any significant business change, implementing mobile is most successful when a phased approach is taken. Focus on the key features first, then iterate to include roadmap items. This requires an evaluation of priorities, and decisions on what features are absolutely critical, versus which ones can wait until later releases. This approach allows you to go to market faster with a viable product, as opposed to delaying release waiting for each and every feature to be completed.
Operational
Operational challenges are also a major barrier to the success of enterprise mobile implementation. Internal app ownership is key; without a person or team that champions the project internally monitoring timeframe, budget, and scope, there is no sense of urgency or accountability. This results in missed deadlines and budget issues. Similarly, if you don't have the right team in place to execute your strategy, you are bound for failure. The right team can mean two things: internally, having the subject matter experts, support, stakeholders, and developers; or externally, working with the right development partner. Finally, adopting the appropriate development philosophy is critical. Traditional software development used the waterfall approach, but with other methodologies like agile development proving effective, it's no longer the only option. Time and again, the agile methodology has proven faster and more efficient, particularly for mobile app development. It is worth evaluating the newer development philosophies to determine what approach is right for your organization and making sure the entire team is on the same page.
Success Factors For Enterprise Mobile Apps
Executive Buy-In
Executive support is imperative to success, particularly when the project is large scale or requires significant organizational change
Internal Champion
There should be a project owner or point person internal to your team to encourage accountability, track progress, and ensure consistent project velocity
Agile Philosophy
Embracing new philosophies that best lend themselves to your mobile project is critical, as is evolving business and operational thinking
Coordination
Technical, operational, or business-related, you need to break down internal silos in order for mobile implementation to be effective
Delivering Enterprise Mobility Solutions
As more organizations look to ramp up enterprise mobile development efforts, many struggle with finding the right delivery model. Among the salient issues are whether to keep development in-house or partner with a mobile app development firm, and deciding on a delivery model. Below we will dive into the different models available, their pros and cons, and how to approach the decision-making process.
1. In-House
Vying to keep all mobile app development in-house is an approach best left for organizations that have expertise in the mobile space and understand what it takes – from a strategy, organizational, and people perspective – to be successful. It is not recommended for companies that are new to or very early in their mobile maturity. Recommended reading – App Delivery: Partnering With A Firm vs. In-House Development
2. Project-Based
Project-based delivery models are typically almost completely outsourced, with at least one point person internal to your organization to keep the project on track and ensure accountability. This model is used for the development of a particular product, for example the launch of a flagship iOS app. With the project-based model, the parameters of the engagement dictate that costs associated will produce a particular output. This is a good option for organizations that are new to mobile and lack the in-house expertise and talent nece