January 14, 2020 By Alex
Restaurant App Development: How Apps and Digital Experiences are Feeding the Hangry
You Wouldn't Like Me When I'm Hangry
In a world that feels like it's in a constant state of flux, people want — nay, they demand — their creature comforts. Consumers were already beginning to discover new ways to get their food, with online ordering rising at a fervent pace by late 2019. "Way back then," you may have classified any food app as forward-thinking. Today "forward-thinking" has become the new mandatory in the restaurant biz. Over the past few years, norms have become deeply altered. Things are different now.
Fifty-nine percent of consumers were highly interactive with physical retail stores before the COVID-19 outbreak. However, today only 24 percent continue to be under current quarantine circumstances, and only 39 percent plan to be in the next six to nine months. On the flip side, 30 percent of consumers were highly interactive with online retail channels pre-quarantine, up to 37 percent during quarantine, and 40 percent plan to be highly engaged with digital retail in the next six to nine months.
In other words, just because a consumer can dine-in, doesn't mean he or she will — today and into the foreseeable future. The great news is customers who order online at casual and fast-casual restaurants tend to spend 13 percent more. So as eateries find their footing in this slippery new landscape, it's vital that they not only participate digitally, but do so with a great deal of thoughtfulness and purpose.
A critical variable in the new math of food retail is agility. You know that feeling when you browse DoorDash or Postmates, you find the perfect place to order dinner, but you can't stomach the wait? If you're in the restaurant business, you already know how difficult it is to please someone who is hangry. As you also well know, you cannot afford to lose a penny of business because your food delivery app isn't dialed in.
Take the Chipotle app for instance. In May 2020, it topped out at one point as the App Store's second most popular Food & Drink app and 54th most popular overall. Chipotle is obviously getting a lot of things right. Let's take a closer look.
A Great App for a Great Burrito
See our video breakdown of Chipotle's app and why it powers Savvy's "Burrito Fridays." Know Your Audience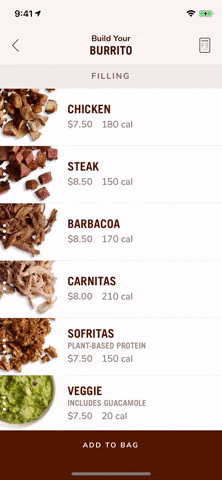 Being in tune with the customer is everything. Every decision a brand makes should be guided by how its ideal consumer would feel. Starting with that baseline, you can come up with strategies that strongly resonate with your core audience.
When you open the Chipotle app, you'll quickly notice its swipe-based navigation system — a deft move. Savvy pushed (pun intended) this paradigm as early as 2011, six years before Apple made it mainstream with the home-button-less iPhone X. Chipotle understands that for its main target, a younger demographic, swiping comes just as naturally as scrolling.
Chipotle also is careful not to preclude potential customers outside its main target audience. If swipes aren't your thing, it's possible to navigate the app with simple scroll gestures too. This is the perfect example of how a brand can show some flair in its app while still catering to multiple audiences.
Extend Your Storefront to Your Food App
Consistency is fundamental to branding. Your app is no exception.
If the in-store and digital experiences look and feel completely different, you've got a problem. It is incredibly gratifying to consumers when online ordering feels just like walking up to the counter. You can almost smell the onions grilling on a good food app.
App design is integral to achieving this kind of experience. Using the same colors and graphics as your physical space is a must. Offering the same products and customizations as you do in-store is another. At Savvy, we believe the best digital dining experiences include full menus, synchronized loyalty programs, and discount pages.
When it launched its loyalty program in March of 2019, Chipotle saw an increase of 480 percent in daily Chipotle app downloads and a 273 percent uptick in daily active users — not a bad strategy to boost business.
Keep Onboarding Simple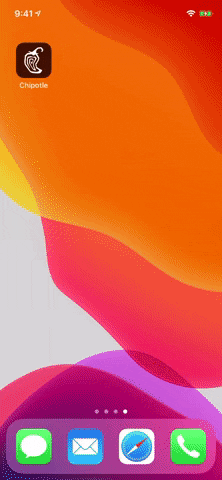 When installing a new food app, users are often greeted with a step-by-step explanation of all available features to ease them in. But let's face it: many of us tap "skip all" and wing it. When creating your food app, remember that consumers wanted their chow 10 minutes ago.
Don't be afraid to pare back or eliminate the onboarding process altogether. Instead, focus on presenting clear information and calls to action on each page. The clearer you make it, the easier it becomes for customers to hit the ground running and eating (better pack napkins).
If you have a moment, check out the Chick-fil-A app. Online ordering is easy peasy thanks to straightforward copywriting, design, and calls to action.
Options! Options! Options!
People want decision power. Give your customers a say on:
Pickup vs. delivery. Ordering food online through an app doesn't automatically mean the customer wants it delivered. Remember, the human experience has changed dramatically. Make pick up an option for frugal customers who want to save a couple of bucks on delivery fees and tips. Bonus: be sure to clearly denote when curbside pickup and contactless delivery are available. Don't take for granted that your customers will know or assume any particular protocol. And remember, contactless options not only keep your customers safe, but staff and drivers too.
Time of delivery. Presetting pickup for a later time is useful not just for customers to plan their day, but also for your kitchen to manage its resources. Taco Bell thinks outside the bun by allowing orders as much as a day in advance.
Disposable utensils/straws. Eighty-seven percent of consumers favor brands that are environmentally aware. We've all heard about the dangers of single-use plastic. There's no reason to deny customers the choice to do without forks, spoons, and straws. It helps demonstrate environmental awareness while saving on disposables.
Keep it Moving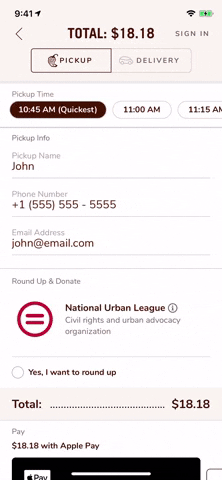 For many consumers, the true beauty of online ordering is the time savings. Think about all the little things that can add up to a lot of hassle, then offer shortcuts.
First, obviously, set up payment options at the moment of an order, rather than during onboarding or requiring onsite payment. Part of the point of an app is to avoid lines and cashiers.
Taken a step further, even when you allow payment through your food app, asking customers to input debit card information can present more friction by requiring them to retrieve their wallets and cards, and enter their card number, expiration date, and CVV. Consumers often have reservations about disclosing payment information online. However, digital wallet services such as Apple Pay and Google Pay provide fast, highly secure choices that cut out the minutia.
There were an estimated 30.3 million Apple Pay users contributing to an estimated $98.88 billion in US proximity mobile payment transactions in 2019. Those numbers were already projected to grow dramatically over the next several years before COVID-19. We suspect those estimates will end up looking rather conservative.
Shake Down Your Online Ordering Processes
Are you starting to get the impression that customer experience is pretty important for a food app? By now, it should be obvious that there are a ton of details to consider.
To make sure your app is fully dialed in, you need to get intimate with it.
Don't rush the development process
Test the heck out of it in-house
Check that it isn't a battery hog
Test load times
Make sure all the relevant information is readily displayed and accessible where and when you'd expect it
Be purposeful in requests for user data, such as notification permissions, address, payment information, etc.
Once you're thoroughly satisfied, then and only then should you launch. Rushing out an unpolished product often leads to negative app reviews, user frustration, and missed opportunity. Who knows if and when a scorned app lover who rage-removed your food app from his or her home screen will grant you a second chance. There is more competition out there than ever to win a share of the online/take-out/food delivery market, so you have to get this right.
Never Go Stale, the Chipotle Way
The reason Chipotle gets so much right is that it doesn't rest on its laurels. As the world changes and the needs of hungry consumers evolve, it finds new ways to innovate where other quick-serve restaurants fall short. Pizza Hut's largest franchisee, NPC International, recently filed for Chapter 11 bankruptcy citing rising labor and food costs and struggling sales. With 40,000 employees spread across 27 states operating 1,200 Pizza Huts and 400 Wendy's restaurants, NPC amassed nearly $1 billion in debt. That is to say, there is a lot on the line if you're not thinking ahead.
Case in point, when the COVID-19 pandemic forced all its dining rooms closed, Chipotle pivoted into full takeout and delivery mode. As of Q1 2020, its digital sales jumped 81 percent year over year. In March 2020 alone, digital sales grew 103 percent. Considering digital represented 20 percent of its total sales by the end of 2019, up to 26 percent the following quarter, Chipotle knows that simply offering base options isn't enough.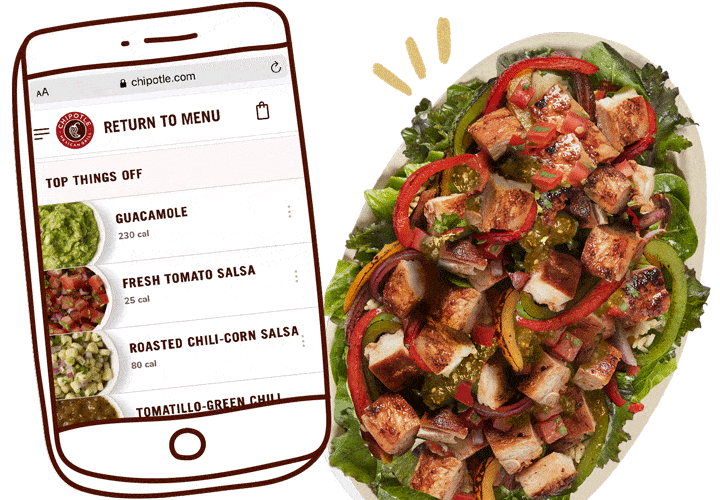 With that in mind, the Newport Beach, California–based, burrito manufacturer began strengthening its ties with complementary brands. In June 2020, Chipotle launched online ordering through Facebook Messenger. Now when hungry patrons want to place an order on the go, they can select "Message Us" from Chipotle's Facebook page. From there Pepper, Chipotle's concierge bot, can take and process customer orders using natural language. In addition to allowing for light, standard, or extra ingredient quantities and understanding natural language, Pepper also adds an intriguing option for group ordering in which as many as 20 people can add to an order. That's pretty dang convenient compared to dictating special orders to the poor designated gopher of your group. Chipotle went as far as to include donation options for causes such as systemic racism and inequality. This is how you stay relevant and engaging.
Another recent partnership helps extend the fast-casual chain's reach even further. By teaming up with Grubhub, Chipotle not only can be ordered through the Grubhub app and website, it also gains access to an expansive pickup and delivery network. These are the actions of a business hip to the current landscape and doing everything it can to remove all user friction.
It shouldn't come as any surprise, then, if you begin to notice Chipotle offering unique digital-only promotions soon. In order to continue its digital expansion while weening customers off the free deliveries it offered in the early stages of the pandemic, Chipotle is getting creative again. This time, it may offer its most requested menu item, the quesadilla, as a digital-exclusive option. This should route more traffic over to digital without incurring the hit of delivery on the house. Brilliant.
In Closing
As you contemplate your online ordering strategy, how far outside the box have you thought about taking your business to exceed consumer expectations?
We know this is a lot. But we've been through it before. Savvy has been a forward-thinker in the app landscape for 11 years and counting. Let's order up a couple of burritos and talk about how we can make your digital dining experience unforgettable.