December 14, 2019 By Alex
App Preview Guide: Convince Users to Download Your App in 30 Seconds
An App Preview is your 30-second chance to convince users to download your app. Done right, it can be the most powerful user conversion tool in your app's arsenal. For some people, though, crafting an App Preview can be more daunting than creating the app itself.
We know first-hand just how challenging an App Preview can be. Our team at Savvy started creating apps back in 2009, at the very beginning of app stores. Since then we've watched the app stores evolve, offering more ways for app creators to market their apps. We regularly help our customers think through their App Previews and, with this resource, hope to extend the same knowledge to you. Follow along as we use our new Jellies App Preview on the App Store as well as our past experience to tackle:
Crafting a strong story (in 30 seconds)
Structuring your story with an AV script
Establishing your production process
Aligning your video with your app's brand and design
Making your app stand out from the crowd
When you finish reading, you'll have a good idea of how to move forward with your own App Preview.
Note: While this article focuses on Apple's "App Preview" specifically, along with some of the nuances around it, the concepts are applicable to Android apps as well and can be used for Google Play or the Amazon Appstore.
Get the AV Script TemplateTo get you started, we created a bonus AV script template you can use to plan your App Preview. Click the link below to download the instructions and the template in your preferred file format (.docx, .pages, .pdf). What is an App Preview, Really?
An App Preview is a 30-second video that gives users a sneak peek inside your app. It helps them determine whether your app is indeed the one they want before committing to an install. At a basic level, your App Preview accomplishes this by:
Introducing your app brand
Giving visitors an idea of how your user interface works
Providing an overview of your app's primary features and values
For example, take a look at the App Preview we recently created for Jellies.
At its simplest, Jellies is a kids video app. You can see that from the App Preview video. Hopefully, though, you get the feeling from the video that Jellies is much more than that too. That leads to the heart of this exercise, and why it's so challenging for many app creators. To convince visitors to commit to a download, your App Preview needs to go beyond communicating what your app is and does.
A successful App Preview tells the story of your app by:
Eliciting emotions in the viewer and building excitement
Conveying the value of your app and why it's perfect for the user
Showing the visitor what your app can do and how.
See the difference?
Your App Preview is often the first thing about your app a user will see, so it is your first opportunity for a good impression. The perfect first impression hinges on making a creative, engaging video that grabs and holds your audience's attention and demonstrates for them exactly how your app is a solution to their needs. But how can you be sure you are telling the story you want them to hear? How do you go about telling this story? And ultimately, how do you make sure that your first impression becomes a conversion from audience to user?
Do I need an App Preview? Technically, no. You can submit your App Store listing with only screenshots. But doing so would be a disservice to your app. More and more apps are launching with not just one App Preview, but three. Users are becoming more accustomed to seeing videos in App Store listings and are becoming more reliant on using them to gauge the value of an app.
How to Tell Your App's Story in an App Preview
30 seconds to tell the world why your app is amazing isn't a long time. Telling a clear story in such a brief video relies on how well you understand the value of your app and how you communicate that through a strong story structure.
STEP 1: IDENTIFY YOUR CORE VALUE PROPOSITIONS
It's important that your audience comes away understanding why your app is valuable and unique after watching your App Preview. To hone in on the value for our Jellies App Preview, we first made a list of what we felt were the most important features to highlight and value propositions to share.
Some of our biggest values for Jellies users are the quality of videos (not only what we include, but what we eliminate: unboxing, child celebrities, toy play), the security of the platform, the ease of use for parents, among many others. We also know that mentions from media outlets like TechCrunch and safety certifications mean a lot to Jellies users.
Once we outlined the main value propositions for Jellies, we then further prioritized which ones would make it into the App Preview. We chose value props based on their critical importance, how engaging they are, and how easy they are to understand visually through our user interface. Looking at all of these items allowed us to hone in on the most important things to convey in our App Preview. Prioritizing your messages ensures you are telling the right story for your prospective users.
Don't be afraid to leave out some of your app's smaller value propositions, especially if they're more complicated to explain or not visually engaging. An App Preview is like the trailer of a film, it doesn't have to tell the audience about every plot point of the movie, it just needs to get them excited enough that they want to come see it. Or in our case, download the app.
STEP 2: FIND OPPORTUNITIES TO ALIGN VISUALS AND VALUE PROPS
Not only do you need to communicate the value your app provides to users, you need to give them a feel for how the app works. Thanks to the 30-second time limit, the best way to accomplish this is to find ways to do both at the same time.
To do so, take your list of core value propositions and compare them to your app's features to find points of alignment or reinforcement. These points of alignment represent some of the strongest stories to focus on in the App Preview. They not only demonstrate where your user experience perfectly reflects your intended purpose, they are visually representative of how your user will receive that value.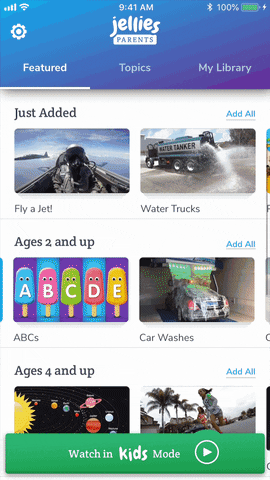 When we did this, we found that some value propositions would be easier to communicate in the 30-second App Preview than others. For example, because Jellies is a video platform, we understood a big part of the value of Jellies was in the variety and quality of the videos we curate and provide to our users. For us, it was important that this consideration be front and center.
Thankfully communicating the variety and quality of videos in the App Preview was only a matter of showing clips of some of the great videos in the app. However, we were able to take this a step further. Instead of just sharing different video clips, we leveraged our in-app footage to tell the story of how a user might move through the app and see those videos.
In the example to the left, you don't just see a random video of hot air balloons. Instead, you journey from the Jellies main screen, through the Ages 2 and up category, tap on the Hot Air Balloons topic, see the detailed topic screen, then experience the footage. This tells the audience how they might move through the Jellies interface and what their experience would be like if they installed the app.

It wasn't as straight forward for some of the other value propositions. As we worked through our list of core value props, we quickly ran into a challenge. We felt that sharing Jellies' accolades (TechCrunch, WSJ, KidSAFE) wasn't possible with user interface footage. While these accolades are no doubt important to us and our users, no mention of them exists inside the Jellies app. Instead, we had to work out how to show them in a way that aligned with the vision of the rest of the video.
We decided to pair the accolades with some exceptional footage from our curated videos to not only share the value proposition but also reinforce the reasons Jellies stands out among other kids video apps. Doing so allowed us to stay efficient with the time we had available while still telling a compelling part of the Jellies story. See what we did in the example to the right.
STEP 3: STRUCTURE YOUR STORY
After defining your most important value props and aligned visuals, it's helpful to lay these items out in sequence and move them around until they make sense in context. For example, we used a diagram to map out our concepts for the Jellies App Preview. When mapping out your concepts, remember to keep it simple. Story structure is important to any video but only because it allows you to map out what you want to say before you actually spend time saying it. Using post-its or any other model is only valuable if you don't start "doing the work" before you "know where you are going." If you find yourself tempted to start "writing" before outlining, take a few minutes to jot your thoughts down so you don't lose them, but remind yourself that a structure model is just like a model airplane. It's nowhere near as complex or large as an actual airplane, and it was never intended to be.
Since the App Preview is so brief, you may find that you don't have enough time to tell the story you want. If that's the case, go back to your structure. Rather than trying to shorten individual beats, see which ones you can combine or omit entirely. In my opinion, it's always better to have a shorter but clearer story than one that is longer but confusing. So cut anything that you feel you can't relay in less than the time you have available.
STEP 4: PUT IT ALL TOGETHER IN AN AV SCRIPT
From our structural outline, we wrote an Audio Visual (AV) script. An AV script is a proven, widely-used industry tool that's easier to interpret than a traditional screenplay and simple to understand, even if you've never seen one before. We use it to map out not only what we want the audience will see and hear from moment to moment in the App Preview but also how they transition from one moment to the next. An AV script helps ensure clear communication about the App Preview across team members, and is especially useful when hiring technical help. It accurately tracks timing, shot numbers, notes, and changes to all the moving parts in your App Preview. What's more, it's an easy way to define where audio and visual elements overlap. Making sure everyone knows what to expect across all elements and versions of your App Preview prevents time-consuming and costly miscommunication.
To get you started, we created a bonus AV script template you can use to plan your App Preview. Click the link below to download the instructions and the template in your preferred file format (.docx, .pages, .pdf).
How to Make Your App Preview Stand Out
Once you know what story you want to tell and how to tell it, take a moment to consider how to make your preview stand out from the crowd.
LEARN FROM EXAMPLE
One great way to improve on your App Preview is to review other videos and find some that you like. Don't limit yourself to your app's direct competitors. There's a lot to learn from popular apps across all App Store categories. Some of our favorites include:
Waze: This App Preview clearly tells a single user story with in-app footage. Its titles reflect the playful and fun art style of the app.
Actions by Moleskine: While incredibly simple, this preview does an excellent job of showing what the app is and can do. The titles are simple text, white over black, and the transitions are uninflected and straightforward, just like the app. This App Preview aims to get out of a user's way while communicating how the app makes staying organized and productive a painless and simple process.
Calm: This App Preview shows off the user interface of their app while reinforcing key points with titles styled similar to their app experience. As a whole, the preview video feels "calming." This aligns with their primary value proposition, providing a calming user experience through meditation and other app elements.
USE VISUAL ELEMENTS TO SUPPORT YOUR STORY
Decide on how your visual elements will relate to the story of your app and your users. For example, it was important to us that the Jellies App Preview reflected the feel of the actual app. Since exploration and fun are major themes in Jellies, we focused our creative efforts on evoking those feelings in our backgrounds, text, transitions, video clip selection, and app footage.
Backgrounds, text, and transitions: We aimed to make our audience feel like they were going on a short journey as they watched the App Preview. To spark that feeling of momentum, we used movement in our text, video, and visual elements to make them feel like they were along for the ride.
Clip selection: Jellies offers thousands of videos on hundreds of topics. While this means we could have selected footage of practically anything, we decided to focus on clips that encouraged creative play and real-world exploration. App footage: We selected footage that mimicked the way a user would move through the actual app instead of showing off individual features. This reinforced our idea of taking the audience on a journey through the app experience. Instead of jumping between Jellies' timer feature, to Kids Mode, to Parents Mode in a disorganized and unintuitive manner, we focused on creating a flow that made sense to our audience and inspired them to install the app to explore it more.
In our style frames for the Jellies App Preview, we used the same Jellies blue gradient that exists in the app, the website, and other Jellies promotional materials. We also made sure we were using the Jellies primary font. The background bubble or bokeh textures were more of an abstract element inspired by brand elements from Jellies.
Try mocking up different looks with style frames to consider adding similar touches to your App Preview. To create a style frame, pick key moments from your story to "freeze" and visually design. I think of these moments as "the places where the video stops." Once you've selected a few style or "key" frames, it's much easier to fill in what goes between them in your App Preview. Remember to reference your script and story structure to make sure the moments you are selecting are the strongest and most impactful.
REFLECT YOUR APP'S BRAND AND APP EXPERIENCE
You spent a lot of time perfecting your app brand and experience so it resonates with your ideal users. Use that to your advantage in your App Preview by making sure your video looks and feels like your app. This gives you a better chance of making an impression with your audience and ensures they won't feel confused after they download your app.
As mentioned earlier, we used the same color gradient and font from the app to instill the Jellies brand in our App Preview. We also mimicked the app's UI style in our App Preview transitions. For another example, check out the Headspace app and App Preview. Headspace's App Preview leverages the animated feeling and tone of the app experience. The creators even designed the App Preview's captions exactly like the instructional screens in the app.
PICK SOME AWESOME MUSIC
Many users browse the App Store with their phones on silent, similar to how they interact with social media platforms. Because of the App Store's auto-play function, this means that most audiences will experience a muted version of your App Preview, making it essential to design for silence. That doesn't mean, however, that you should ignore those who crank the volume up.
A great soundtrack can really help sell your app's story to visitors. To pick the right music for your App Preview, check out these music service libraries:
PremiumBeat: Offers a wide selection of music tracks that are heavily curated and updated regularly. Their simple one-time purchase model doesn't require you to set up a subscription or purchase several tracks to get what you need. Their purchases often include loops and versions cut to different lengths so you can extend, shorten, or alter songs to match your needs. While not the cheapest platform, using PremiumBeat ensures you'll have great music, with minimal hassle, every time.
Incompetech: Chances are you've heard music from Incompetech before. As it's one of the most widely-used free music sources around, its music is everywhere from broadcast commercials to political ads. If you don't mind that, it's a simple option for people with little to no budget.
Storyblocks: This is one of the more popular subscription-based platforms for music. Here you pay a monthly fee to get unlimited access to the music library. While Storyblocks' curation process isn't as thoughtful and careful as PremiumBeat, their price and music variety more than make up for it.
It's important to pick a song that is unique and tells the story of your app and your brand. Think about the story you are telling with your App Preview and the style and messaging of your app. What musical style captures these qualities well? What pace reflects this messaging? What will your ideal users think about your music selection? How can you express to them the value of your app through your musical choices?
Keep in mind that Apple requires you to have the legal rights to use any music in your App Preview, so make sure you purchase the proper license. Many services offer royalty-free usage rights for a reasonable price. Read the fine print for any music you think you might want to buy. The FAQ sections of most platforms will cover where you can and can't use the music available on their site.
For App Previews, most services' "standard license fees" will apply (Premium or Professional Licenses are designed for television and radio use). Play it safe, though, and never make assumptions. If you aren't sure, contact the customer service department.
Things That Might Make Apple Reject Your App Preview
Apple reserves the right to reject App Previews until they meet their standards. While not the end of the world, an App Preview rejection isn't anything to aspire to. You can usually avoid this outcome by knowing Apple's guidelines upfront. If at first you don't succeed, try again! (But don't forget to reacquaint yourself with Apple's rules first.)
CONTENT RECOMMENDATIONS AND RULES
Apple holds certain expectations on what content can and can't be shown in an App Preview. For your first App Preview, Apple recommends showing off your app's experience, its core features, and key content. They don't allow behind-the-scenes video of the development (or "making") of your app as well as footage of people interacting with your app. This includes "over-the-shoulder" video of someone on a device and disembodied fingers tapping through your app's screens.
It's helpful to keep in mind that Apple considers the App Preview to be a demonstration of the experience your user will have, rather than an advertisement for your platform or service. If you follow the process we outline in this resource, you shouldn't have any trouble. In general, it's wise to ask yourself "Does this footage exist in my app?" If the answer is "No," proceed with caution.
When in doubt, follow Apple's guidelines as carefully as you can. It's better to have an accepted App Preview that shows less than a more extensive preview that you can't actually use on the App Store. Keep in mind that you can create other videos to market your app on other platforms like your website and social channels. You can also include up to two more App Preview videos that focus on specific parts of your app in your App Store listing.
Wait, I need MORE App Previews!? While there's a benefit to creating three videos, the first is by far the most important (and the reason we're focusing on it in this resource). This is the video that automatically plays when the visitor enters your App Store listing. It also shows up in the search results feed.
While there are plenty of opportunities to make a great case for your app throughout the listing, that one App Store Preview is the thing you KNOW your audience will interact with, making it possibly the most important element on the screen.
APP PREVIEW TECHNICAL SPECIFICATIONS
In addition to content rules, Apple published extensive guidelines on how you should capture and deliver your App Preview. These specifications seem technically overwhelming at first, but breaking the list down into the elements that pertain to you and your app makes them much more manageable.
To start, make a list of the devices your app supports and note the requirements for each. You can then build or use presets in your editing software to make sure you are exporting the right file types, resolutions, and bit rates. We found it was helpful to create master videos in each of the aspect ratios for our supported devices. From there we created versions for each device.
Don't forget to make sure that any professional assistance you engage has access to and understands these guidelines. It doesn't help anyone if you pay an editor to create an incredible video only to deliver it to you in the wrong format. Most of these specifications are for export formats, so it is pretty simple to alter settings to create all of the different versions, provided you have the complete list before you start.
Concluding Note
Creating and editing your App Preview can be a challenging and overwhelming process, but by following these simple tactics, doing so should be much easier. When preparing to tackle your App Preview, just remember to focus on the most exciting and unique features of your app instead of trying to squeeze every value proposition into your 30-second window. If you can't fit a feature into your first App Preview, including it in one of the optional two App Previews is a great alternative.
Remember that diagrams and an AV script will help you map out the timing, transitions, and technical aspects of your App Preview. It's also helpful to use visual elements, established branding, and music to help your App Preview stand out. Of course, don't forget to check Apple's guidelines to make sure your App Preview follows the rules.
For more information on marketing your app, check out the Savvy Apps blog. Also, please connect with us on Twitter and Facebook for updates, including announcements when we release additional educational resources.